Gravity Bear Don't Care Process Blog
So one day I my buddy on Facebook was like being all controversial saying crap like, "I don't believe that Gravity or Bears exist." And I responded before fully reading his whole post with a "Screw You!" and a "Heck yes Gravity Bears exist" and "Your Mom likes Gravity (the movie and or the childrens book.)"
So from that moment on I decided that I would devote my life to the plight and flight of the Gravity Bear.
First, I decided to try and capture a pic of the bear in his natural habitat which of course is SPACE. So I packed my hobo stick and put on my space suit and went in to space. I went to a few planets first. But the ladies on Mars and Jupiter were trying to get up ons, and I'm not big on tentacles, So I decided to check out some moons instead.
Ganymede was the first moon I went to, but didn't stay long cause I didn't want to get the SSTD with the same name as the moon. Seriously you do not want to get Ganymedes. Next, I went to Europa and while there I saw that dang magnificent beast just hovering along with his Gravity Belt, which uses the power of space poots to levitate. Unfortunately, I left my cellphone on earth so I had to use my lomography camera to capture it. After waiting a week for my film to develop, I had a real life picture of the Gravity Bear:
So I posted it to Facebook, But instead of the glorious, thunderous applauses and super pokes I was expecting, people started crying "Foul!" "Photoshops!" "Heeeyyyy Macarena!"
So I said fugget you, I'm going to get some vids of the real life creature in action. And that's what I did:
And all of Facebook threw me a ticker-tape parade. All of it. There were much feels.
And so lest we forget, I decided to immortalize the best moment of my life with a tshirt devoted to Gravity Bear. First I decided do that 'Gravity Bear disappears into bushes' tee, cause I know what Threadless likes to print.
I spent 10 hours painstakingly recreating the verve and vibrato of this amazing creature using my sweet LiveTrace skills. But apparently that type of design has been overdone so I went with something a little less over used:
But as soon as I saved that file, the queen called and was like "nuh-uh"
So I instead decided steal a phrase about a stupid honey badger and put it to better use. I mean it totally rhymes now!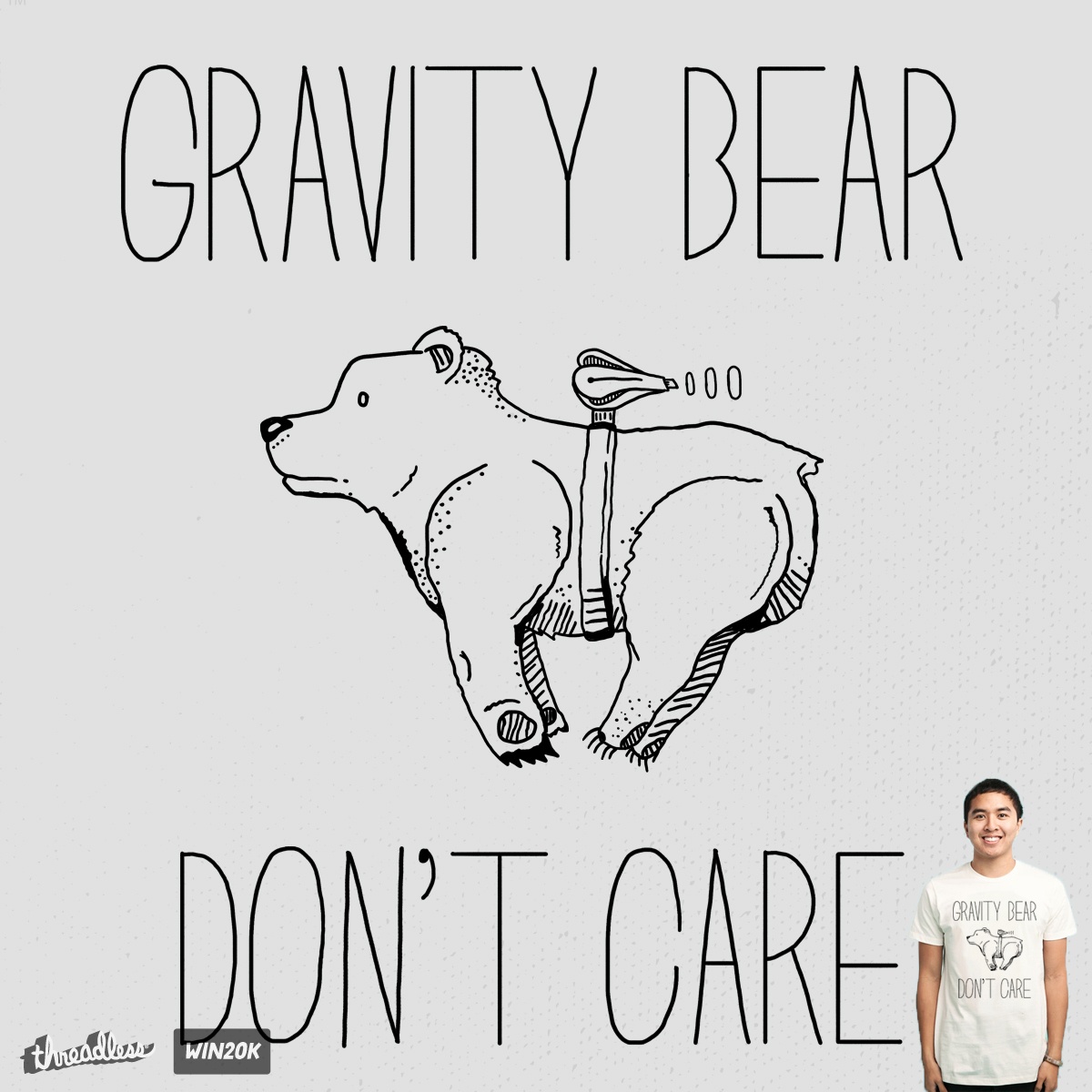 So now you too can support this awesome creature by voting for and funding this shirt. 100% of the proceeds generated by sales of this shirt will go straight to the one person who always believed in Gravity Bear…..me. You know you want this shirt. You can't wait to have to explain what the crap it means to your friends, parents, teachers, Jeff. So buy/vote now!
Thank you for your time.
Get $5 off when you fund my design "Gravity Bear Don't Care" on threadless with code "LTH1G0"